Hot news
{POPUP1ST}1st step{/POPUP1ST} Goldchess... How to begin
---
1. We change the chess rules. Our tournaments have no limit of participants. No limit!
2. Anyone can win in our tournaments. There is only one problem. There are two, actually. We have to beat our educational chess programme, plus... players from Armenia.
Free Daily tournament!
Better than blitz!
Only with us!
Every day 2 Daily tournaments! $120 prizes!
Nothing more. Play and win!
---
Now in our e-shop!
01-06-2020
"Way to the top", edition II supplemented.
Buy now and learn the Goldchess style earlier than others!
---
Book Challenge tournament
***17th January 2021. $15 000 prize pool. Buy a book and Play!
---
Exciting Goldchess World... 2020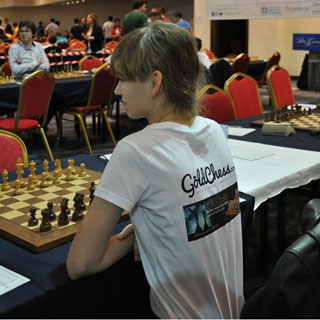 In our T-shirt, the current European Champion, Alicja Śliwicka.
HotLine: Current results of our games
Due to the fact that the official game results are published on every Saturday we create another possibility to check during the week if a correct solution was submitted for a particular game. The information about a possibly correct solution to a task will be published in the table below when the submitted solution is found valid. Official game results, as previously, will still be published on the List of Winner.
All rights reserved. Used trademarks are registered. Game is patented.