Information center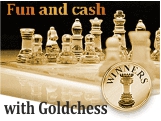 Goldchess... find a game plan to win
---
Goldchess Society - Learn chess with Goldchess
Brilliant chess problems, intelligent people, and... Fun and cash with Goldchess!
The events of this week June 17 - 23 (CET time)
Free games
Diagram 1. The task with prize. La tarea con premio. NOT SOVED YET.
Diagram2. Genius Test June.
The contest lasts a whole month.
See interesting solutions in the Winners-Genius Test
Diagram 3. Crazy 44. The task with prize. La tarea con premio.
Diagram 4. The iron test of your chess predisposition

Saturday 22, 5:00 pm - Goldchess Challenge 24 online paid/free
---
Goldchess teaches how to play chess beautifully and effectively.
Goldchess is a modern chess game that Houdini, Stockfish and Fritz don't know. That's why these computers don't do our solutions and won't help you. But this is a huge chess positive. At Goldchess, you'll learn to think for yourself.
Solving Goldchess tasks is an incredible attraction. You can create your own game of life, which will go down in chess history as a chess diamond. See Genius Test May, Hayk Yeritsyan and our solutions. Let such solutions become your goal and dream. And make them come true in Goldchess.
We wish this to all participants of our games and tournaments.
---
Exciting Goldchess World...
Play
in the Goldchess Challenge tournament. Paying the entry fee or free, if you prefer.
Check for yourself
. If you don't manage to solve any problem, it means that your chess level is catastrophic. Improve it. Goldchess provides an opportunity to improve your skills. Take advantage of it.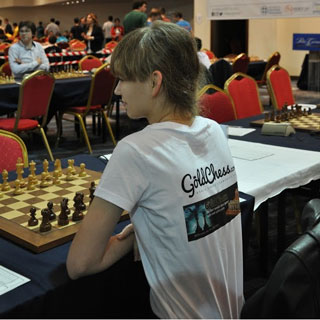 Play with our Champion
Currently, we are the first in the world to have introduced another novelty: playing against a famous chess player. Every week our users could play with the great personages of the chess world. For example, with Timur Gareyev, with a junior Alicja Śliwicka the World Vice-Champion in fast chess, the Armenia's champion Maria Gevorgyan, Grandmaster Aleksander Colovic and many other well-known chess players. The only thing you have to do is to sign up and be ready at the exact time assigned for the game. The chess players who will play will receive instructions by e-mail.
---
The entry fee can be purchased 10% cheaper from the World Champion in Blindfold Chess,
---
Winner name or nick:
Challenge 24, June 22, at 17:00 CET (GMT+1). *Challenge23 - Results: Task 1-win on move 29, without getting a queen, nobody solved. Task 2-winner Alex Nurijanyan, 2 moves faster. Task 3-mate on move 29-f6, nobody solved. A distinction for Armenak for a forced mate in 8 moves, one move later. congrat to all participants. ------------------------------------------------------------- *Players who paid the entry fee, they play for a prize pool of US $ 1000-1500 (provided there is a minimum of 100). The minimum prize pool (already for 5 players) is $ 200. The prize pool can increase. The amount of rewards depends on the number of participants. Winners games are in -Winners
Winner name or nick:
Free tournament for countries of Latin America, Africa, Philippines, Indonesia, Cuba, India and neighbouring countries
Winner name or nick:
Outstanding games of Goldchess. Solve & win! *** In Genius Test June 1 the game from the collection of the Immortal Goldchess Games. Prize $50-$250. The most beautiful solution wins. Play & win! -------------------------- Genius Test May - Hayk day. See his solutions in Winners-Genius Test
Grandmaster Corner Live Puzzle
Winner name or nick:
Diagram1 - the game with prize. May 5, 10:00 am CET
Winner name or nick:
Diagram3 - Crazy 41 with prize. Play & win!
World Chess Community Website
GoldChess offers both free games and tournaments with an admission fee
Prizes await you in both cases.
Play with a friend!
Play a unique game and we'll show it to the whole world!
Play with a real champion! vs Blindfold King - Timur Gareyev! Only with us! March 26!
Subscribe to the game and check –Preliminary Results– an hour before it takes place to know whether you play or not. Chess players who play will receive instructions via email.
Game time: 2019-03-26 13:00:00 pm California time (21:00 GMT, 22:00 CET)
You will play with: TIMUR GAREYEV (Antarktika)
Number of waiting: 0

Different from all.
Log, play & win
Good to know
With GoldChess you may not only win but also learn how to play chess
Introduction for new users.
Welcome to Goldchess!
Goldchess Tournaments provide a luxury of playing chess at home. The rival of each participant is our educational chess software CEEC (Chess Elite Educational Computer) and the game starts from a particular indicated position until a victory or a checkmate is achieved according to current instructions given by the Organizer.

Register yourself. Next year we plan to host a tournament with millions of participants.There will be bonuses and high rewards - see more.

Looking for challenges?

Always wanted to confront the world's best chess players but never had enough time to travel and take part in chess tournaments?

Now you have an opportunity to make it happen. In the Goldchess world you are going to play against top-notch chess players. Make your dream come true, play big, feel the high level of chess. Go for it and win! Reach the top!
High prizes and prestigious titles are awaiting you at Goldchess.
Feel invited.
What do I need to do to win?
Just take a few simple steps and become a member of our GoldChess family.