信息中心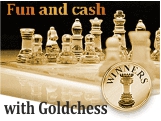 ---
Chess Goldchess marathon!
Goldchess Challenge 11, 12, 13, these are tasks from one game! For the best winner who in each of these three editions will win at least once, we have a special prize!
---
Exciting Goldchess World...
Play in the Goldchess Challenge Tournament. Pay the entry fee or join the Tournament for free, but play. Test yourself. If you don't manage to solve any problem, it will mean you are really bad at chess. Improve it. Goldchess provides an opportunity to improve your skills. Take advantage of it.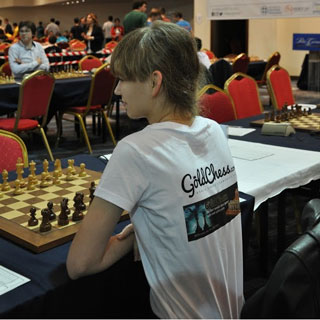 Play with our Champion
Currently, we are the first in the world to have introduced another novelty: playing against a famous chess player. Every week our users could play with the great personages of the chess world. For example, with Timur Gareyev, with a junior Alicja Śliwicka the World Vice-Champion in fast chess, the Armenia's champion Maria Gevorgyan, Grandmaster Aleksander Colovic and many other well-known chess players. The only thing you have to do is to sign up and be ready at the exact time assigned for the game. The chess players who will play will receive instructions by e-mail.
---
The entry fee can be purchased 10% off via website

---
Winner name or nick:
Challnenge 11, March23, at 17:00 CET (GMT+1). *Players who paid the entry fee, they play for a prize pool of US $ 1500 (provided there is a minimum of 100). The minimum prize pool (already for 5 players) is $ 200. The prize pool can increase. The amount of rewards depends on the number of participants. Challenge 10 - results: Free players *Task1 winner Hayk Yeritsyan, *Task2- winner Hayk Yeritsyan. Players with entry fee: *Task1 Armenak-distinction-entry fee for Challenge 11. *Task2 Alex Nurijanyan-distinction, entry fee for Challenge 11. Task3 in both groups - nobody submitted a solution, there is no winner. We invite for Challenge 11
Winner name or nick:
FREE! vs GM Timur Gareyev! March 26, 12:00 pm California time (20:00 GMT, 21:00 CET). 3 games x 10 min, (5+5) for 3 chessplayers. *Game rules: 1. Your color will be randomly selected by our computer. 2. You will be playing on your own, using a chess software is not permitted and will be treated as cheating. Enjoy the game! Timur opponents: 1. Przemek Skrzypczyński 21.00 CET
Winner name or nick:
Outstanding games of Goldchess. Solve
了解我们的游戏
同时提供免费和收费的比赛。
在这两种情况下,你将都可获得奖金!

和别的不同.
Log, play & win
值得了解
在GoldChess,你不仅可以玩象棋,还可以学习如何下棋。
给新用户的介绍
欢迎来到Goldchess!
Goldchess是自己家里比赛的舒适感。参与者的对手,就是我们国际象棋CEEC(Chess Elite Educational Computer)电脑。 我们由给定的位置开始,和它下棋,以达获赢或将死,根据组织者的具体安排。

大家尽量报名吧!明年打算组织1百万参与者的竞标赛 - 見

欢迎来到Goldchess!如果你在寻找挑战,总是想和世界上最好的国际象棋选手对战,但却没有时间去旅行参加象棋比赛,但一切机会尽在这里。

在这,你可以尽享国家象棋大局面。实现你的梦想,玩转国际象棋大境界,接触象棋界的"精英",下棋并赢取奖金,攀登高峰!

在Goldchess,丰厚的奖金和荣誉等着你。

热烈欢迎!
只需几个简单的步骤,成为我们GoldChess家庭的一员。